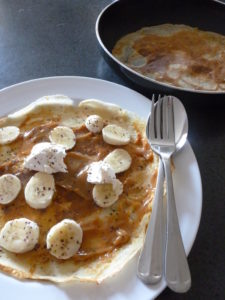 Something a little different today from Seaspoon Seaweed. Eating seaweed is really catching on, Seaweed is an incredible food – it's sustainable, ethical, abundant and has really spectacular nutritional properties.
Here at Seaspoon Seaweed, we have a Crown licence to hand harvest seaweed from south Devon. Seaspoon launched in July, quickly winning a BBC Good Food Show Bursary Award and getting set up to be stocked with major online retailers including Amazon.
Now for that recipe:
Banoffee Pancakes
The natural saltiness of the seaweed adds an extra zing to the caramel on these pancakes. You could always add a sprinkling of seaweed to the batter for an extra boost.
INGREDIENTS
For the pancakes
100 g plain flour
2 eggs
300 ml semi-skimmed milk
1 tbsp sunflower oil  or vegetable, plus extra for frying
pinch salt
For the topping
Caramel condensed milk
Cream
Banana, sliced
Seaspoon Seaweed Boost
METHOD
Put the flour in a bowl and crack in the eggs.
Add the oil to the flour. Slowly add in the milk, a bit at a time, whisking it in until you've a lovely smooth batter
Heat a pan with a little oil and add a ladle-full of batter to the pan, tilting the pan to get the batter covering the pan in a nice full circle. After a minute or so, when you can see the pancake is starting to come away at the sides, flip the pancake! Cook until golden.
Serve with a generous spreading of caramel sauce, sliced bananas, cream and a sprinkling of Seaspoon Seaweed Boost
To find out more about Seaspoon simply click on the link.
Enjoy this delicious recipe and don't forget to leave us your comments….
Thank you for reading The UK Newspaper
  Articles like this demonstrate our goal to transform the way the media operates in the UK and set new standards that other newspapers will be judged by. The UK Newspaper was founded with the belief that many of the UK's citizens desire – and deserve – an objective source of news analysis without the strong political biases of the country's established newspapers. We believe the commitment to this type of strict impartiality safeguards the wisdom of the voting public, fosters democratic legitimacy, and mitigates social polarisation. In order to achieve our goal we need the help of readers like you. Every contribution we receive helps us ensure that we can continue providing balanced, insightful analysis of the issues that matter most to the people living and working in the UK.  You can support us from as little as £1 a day.  The truth is that your contribution, no matter its size, makes an impact. Every penny helps.  We accept online donations through Paypal. You don't need to have a Paypal account to use Paypal's services.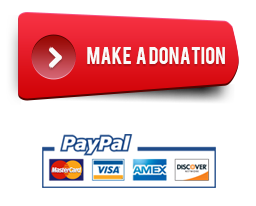 Please follow and like us: